We feature an outstanding variety of digital retail price computing scales buying information. Take a look below at a partial listing of price computing scales knowledge available. These CAS high capacity scales are great to weigh fruits like bananas, peaches,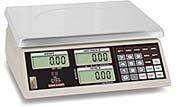 apples, candy or any vegetables you want to sell. These quality Retail Scales are also great for farmers markets, produce stands,etc... because most are battery powered in addition to AC power. We even have several brands available with a rechargeable battery! NOW ORDER ONLINE
Checkout our website for a more complete listing of balances ideal for markets from Toledo to Tampa. Weighing solutions available for various industrial and retail computing and weighing applications. What do you think, buy new or keep your old equipment? Everyone always wants the most detailed buying recommendations, and we have them. We usually suggest it's better to purchase items with battery power and of course legal for trade. These scales are perfect for selling your vegetables or fruit by the pound to your customers. These scales calculate the price per pound and can save you tons of time when telling your customers what they owe you when making a purchase. The scales are also legal for trade which is pretty much a requirement in most states across the U.S. While you are here please spend some time reading our informative reviews and product overviews and buying guides. Also, please take advantage of some really cool scale coupons that can save you even more money. See our product matrix for an easy to understand breakdown of items.
CAS S-2000Jr. is a NTEP certified scale for direct sale of commodities in stores such as: supermarkets, delicatessens and groceries. The Model S2000 Jr. is available in several different configurations, they include three multi-interval capacities and two display configurations, LCD or VFD. This scale has an eternal lb/kg conversion switch. The scale has dual markings and the lb/kg switch changes enunciators for proper indications. Tare weight may be entered using: platter tare, key board tare and tare programmed with a PLU. This can be a great choice for weighing frozen yogurt by the ounce. This scale can be connected to basic CAS label printer also.
Rice Lake's RS-130 retail scale is the ultimate choice for simple price computing applications delivering unmatched convenience and accuracy. Providing one-button operation, the RS130 displays weight in either pounds, kilograms or ounces*. For added convenience, the RS-130 can save eight direct price lookups and 89 indirect price lookups. Quickly calculate cash back for applications where a cash register is not present. The large stainless steel platter provides ample room for product and a standard in-use cover assures years of trouble free operation. The RS 130 is NTEP-certified and operates on a rechargeable battery (included). A low battery annunciator signals the operator when it's time to recharge. And since this scale has the ounces unit available, it can be a great scale for frozen yogurt shops. Overall the RS-130 offers the most accurate, portable and affordable solution for simple price computing needs.
The Brecknell PC-30 and PC-60 are simple and cost-effective and has been developed for independent retailers by Brecknell Weighing. The PC-30 can be used indoors in a candy shoppe or outdoors at a farmers market using 115VAC power or battery power. It has a compact footprint to save counter space and allow easy movement, and features a backlit LCD display and a weighing capacity of 30 pounds or 60 pounds with the model PC-60. You can count on us to bring you a great price and then go above and beyond by providing a money saving coupon for scales.
A lot of experienced customers out there can remember the old days of using scales. There are certain names that are industry benchmarks. The name Detecto is world renowned when it comes to food service scales. Take the guess work out of pricing with Detecto's D series retail scales. These are designed for portable use with a built-in rechargeable battery pack, the LEGAL FOR TRADE NTEP Approved D series is ideal for deli's, bakeries, candy and coffee shops, convenience stores, produce markets, hardware stores and more. Available in your choice of different capacities.
The ER Jr from CAS is a nice blend of quality and affordability. Need a good price computing scale with battery for your farmers market? The CAS Corporation ER Jr features an easy to read LCD display, 30 pound capacity and is powered by both regular AC power and built in rechargeable battery. Ideal for selling fruits and vegetables by the pound when you need a class III NTEP legal for trade scale.
Another product that many customers really like is the Torrey LPC-40L. This scale is one of the cheapest retail scales that we know of. If you don't have a lot of counter space but need a good scale for your business then look no further than the LPC-40L. With a footprint of only 9" x 12", this compact scale has the functionality you need without requiring a lot of space.
It is easy to place an order using our online ordering system. Nobody sells more retail scales than we do and that's why we continue to have repeat customers contacting us every year when they need to expand their selling presence at the market or produce stand.